Our history
Hotel Dolomiti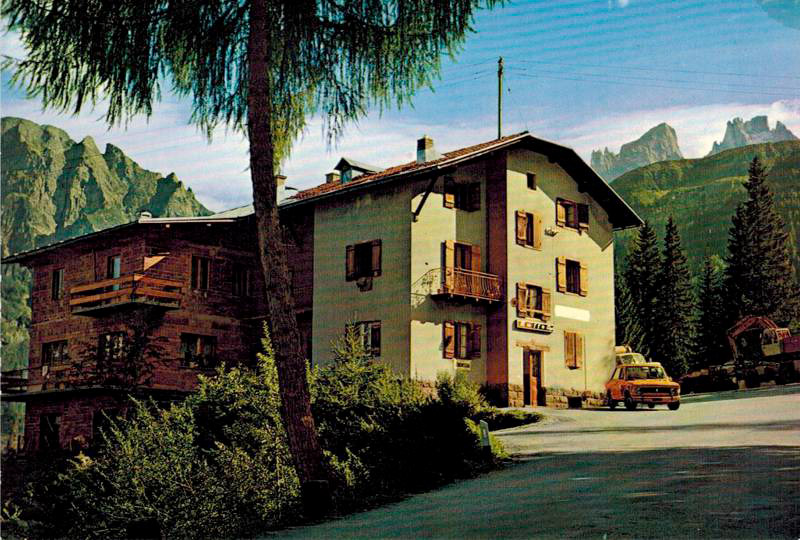 The history of the Hotel Dolomites Caverson began in the years after World War II, while these valleys suffered an exodus of the male population in search of work to neighboring European states, grandfather Augusto decided with the help of his sons Lorenzo, Mario and Placido in 1948 to build a mountain hut and a barn near it.
In April 1950, Lorenzo and his wife Maria bravely opened the business as a mountain hut. Falcade tourism was then in its infancy, Lorenzo worked first as a forester and later as a watchman on the road to Passo Valles. The first winter was immediately very hard: a total of 16 meters of snow fell, but they had true grit and so the business on.
In 'Winter 59/60, having their children to attend school, the family Secchi decided to move to Falcade Alto. In May 1960 Lorenzo paid off his brothers and became with his wife the only owner of the existing mountain hut.
Meanwhile the tourism was growing, and in 1964 the mountain hut was expanded with a new dining room and six new rooms; in 1981 the bar transferred in to the new enlarged wing of the building, becoming considerably roomier.
Lorenzo and Maria decided to retire in 1983, the son Tullio and his wife Lida became hoteliers, first with the help of the family of his brother, out the most recent enlargement, decorating the eight rooms in the new building and then renovating the bar with a rustic decor.
Since 1998, the son Mirko provides for the continuity of together management with his parents he enlarged in 2000 the business with the construction of a new Ski-Bar and the renovation of all the rooms, the kitchen and the dining room, sauna building and he is continuing to evaluate new ideas to best they carry out satisfy all guests.