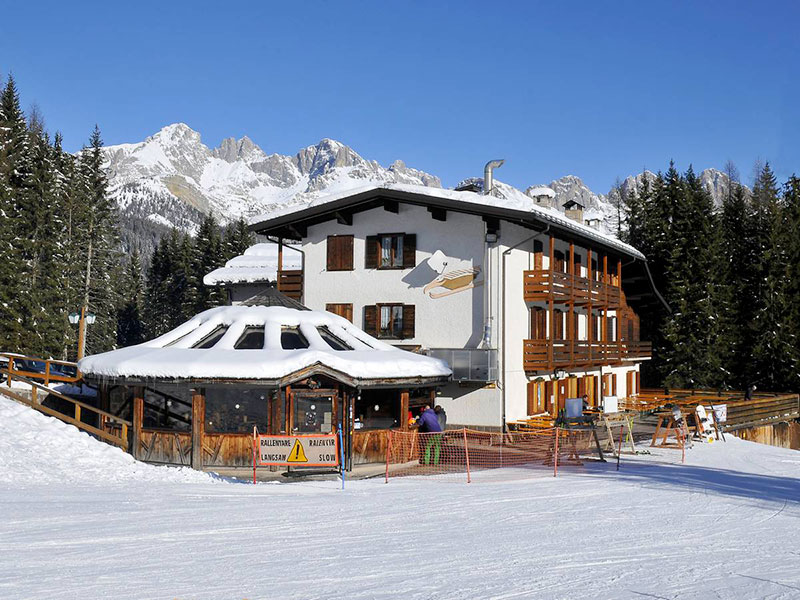 In winter Albergo Dolomiti is at its best, as it stands on the access road to Falcade, at the crossroads of the Rossignol piste descending from Le Buse (intermediate station) and the Lovers' piste which leaves the Margherita pass - the area's highest point - and descends via the Valles Pass.
Leaving straight from the Hotel with skis on, you can access all the pistes of the Falcade-San Pellegrino ski area.
The ski slopes...
Alpe Lusia – San Pellegrino Ski Area
The Alpe Lusia – San Pellegrino Ski Area extends around the three main settlements of Falcade, Moena and Passo San Pellegrino; this is a ski area in the centre of the Trentino and Veneto Dolomites and part of the prestigious "Dolomiti Superski" circuit.
There are plenty of opportunities for sport and leisure, thanks to 100 kilometres of well-maintained pistes at altitudes of up to 2550 metres, offering the pleasures of skiing with all mod cons. 60 kilometres of pistes have guaranteed snow throughout the season, thanks to programmed snow cover provided by 100 high and low pressure cannons. In the Moena-Alpe di Lusia, Passo San Pellegrino-Falcade ski area, there are 30 ski lifts with an hourly capacity of more than 36,000 people.